Healthy Food In Nepal

---
Name:ALU TAMA
---
As Nepal is the country based on many different cultures we can find variety in food among those foods Alu Tama is one of them which I am going to present here. Aloo Tama simply means "Potato Bamboo Shoots". It a is unique and classic Nepali curry flavor dish.

It is very spicy in taste than any other Chinese or East Asian food.This is very unique as bamboo shoots are rarely used in any other kind of dishes.


INGREDENT
bamboo shoots
potatoes which is peeled and cut into pieces
black-eyed peas(soaked overnight)
onions,finely chopped
red chillies
some amount of cumin and chilli powder,minced garlic and ginger
some tumeric powder,fleshy ground pepper,chopped tomatoes
little oil and salt to taste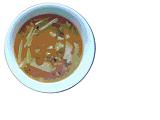 PREPARATION
1.Heat oil and fry red chilliesuntil dark
2.Fry onions until light brown. And add spices, salt and cook for few minutes
3.Add potatoes to onions and fry for few minutes
4.Add soaked beans, bamboo shoots,and tomatoes and heat for a minute
5.Stir well, boil and let simmer for 15-20 minutes under low heat until potatoes and beans are tendre,and gravy.
6.Garnish and serve hot with rice.